This website contains the following parts of Puraanic Subject Index :
Puraanic Subject Index (From Ra to La)
पुराण विषय अनुक्रमणिका( र से ल तक)
This website is dedicated to a highly recognized elderly vedic scholar of our times, Dr. Fatah Singh, who has been active in his vedic studies till recently.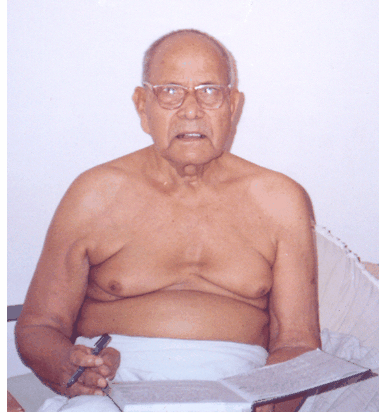 HIGHLIGHTS OF CAREER OF Dr. FATAH SINGH
Born : Guru Purnima, Vikrami Samvat 1970( 13-7-1913AD.) in village Bhadeng Kajja in Pilibhit District. Died : 6-2-2008 AD. Received his M.A. degree from Varanasi. Awarded D.Lit. by Banaras Hindu University for his thesis on Vak in vedas. Taught Sanskrit and Hindi in the colleges of Agra and Kota. Was principal of the colleges of Sriganganagar, Byavar, Kaalaaderaa. Director of Rajasthan Oriental Research Institute from where he retired.Got international fame for his efforts to interpret Sindhu culture script on the basis of vedas, a work which is still close to his heart. In addition to editing of 33 old manuscripts, he has authored books some of whose names have been given here.
1.Vedon ka Punaruddhaar(Resurrection of Vedas)
(Veda Sansthan, C-23, Rajouri Garden, New Delhi - 110027) Price Rs.200/-
2.Maanavataa ko Vedon ki Den(The gift of Vedas to Humanity)
(Veda Sansthan, C-23, Rajouri Garden, New Delhi – 110027) out of print.
3.Bhaavi Veda Bhaashya ke Sandarbha Sutra(The Reference Points of Future Explanation of Vedas)
(Veda Sansthan, C-23, Rajouri Garden, New Delhi – 110027) Price Rs.15/-
4.Dhaai Akshar Veda ke( Two and a Half letters of Veda)
(Veda Sansthan, Rajouri Garden, New Delhi – 110027)Price Rs.50/-
5.Vedic Darshan(Published in year 1947, now under reprint)
6.Vedic Etymology(Published in year 1955, under reprint)
7.Kaamaayani Soundarya( Under reprint)
8.Sindhu Ghati ki Lipi me Brahmanon aur Upnishdon ke Pratik(Symbolism of Brahmanas and Upnishads in Sindhu Valley Script)(Rajasthan Oriental Research Institute, Jodhpur, India, 1969AD.)